Component Testing Lab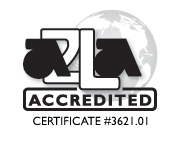 The CTL is accredited to ISO/IEC 17025:2005 standards by the American Association of Laboratory Accreditation. Download the A2LA Certificate and scope here.
———————————————————————————————-
Chamber 1: Vibration Chamber
Equipment Manufacturer: Envirotronics, Inc., Grand Rapids, MI

Features and Specifications:
Size/Dimensions (working volume):
260 cm wide x 260 cm deep x 220 cm height
Temperature Range: -50°C to +120°C
Controlled Relative Humidity: between 10% and 95%, over the temperature range of +10°C to +95°C
Tolerance: +/- 0.7 K; +/-3% relative humidity (3-D space and time-wise)
Temperature Cooling/Heating Rate: 2 K/min
Changeable floor plugs for Shaker interface or climate-only operation without the Shaker
Shaker System
The shaker system interfaces with the chamber, and is utilized for both vertical and lateral vibration testing profiles. It can also be use separately from the chamber.
Force rating: 29kN (6500 lbs)
Displacement Peak-to-Peak: 50.8mm (2 inches) maximum
Velocity: 1.8 m/s (71 inches/sec)
Acceleration: 735 m/sec2 (75 g)
Low Noise Operation Mode: during low noise operation mode the noise level is <NR35
according to ISO 1996. This mode is useful for squeak and rattle testing of automotive parts.
Chamber 2: Solar Chamber
Equipment Manufacturer: Envirotronics, Inc., Grand Rapids, MI
Features and Specifications:
Size/Dimensions (working volume): 274 cm wide x 500 cm deep x 290 cm height
Temperature Range: -50°C to +120°C
Controlled Relative Humidity: between 10% and 95%, over the temperature range of +10°C to +95°C
Tolerance: +/- 0.7 K; +/-3% relative humidity (3-D space and time-wise)
Temperature Cooling/Heating Rate: 2 K/min
Climate-only operation without the solar system
Solar Array
Equipment Manufacturer: Atlas Material Testing Technology GmbH, Germany

Features and Specifications:
Solar Simulation: Spectrum per DIN 75220
Intensity: 1050 +/-50 Watts/m2 over 400cm x 170cm area at the component level (component reference/measurement level is defined at 110cm above chamber floor).
Eight SolarConstant/4000 Luminary units with metal halide (MHG) bulbs
Solar Box Setup: a solar box with inclined windshield is available to simulate real inv-ehicle conditions for parts that are commonly exposed to solar irradiation located inside the vehicle cockpit.
Air Speed: inside climate chamber < 1m/s; inside solar box: < 0.3m/s
Optical Measurement
Equipment Manufacturer: GOM, Germany, UK, globally

Features:
Photogrammetric systems: ARGUS and TRITOP
Stereometric system: PONTOS
3D Digital Image Correlation system: ARAMIS
Direct CAD/FEA model comparison
Provides full-field 3D deformation and strain data
Dual-processor mobile image processing workstation
Gap Measurement
Hand measurement of adjacent trim parts
Verification of customer specifications, available before and after environmental tests
Other Measurements Available
Customer specified:
Adhesion Testing
Color Measurement
Materials Testing, Fracture Analysis and Microstructural Examination
Component Assembly
Duplication of OEM Final Assembly Processes

Installs vehicle cockpit accessories and driver/passenger interface items
Follows customer build specifications for assembly order, torque, fixation
Meets OEM final component specifications for mass and geometry in climate tests and shaker simulations
Provides opportunities for OEM-specified combinations of trim items for color tests

Tools calibrated to traceable standards